//Dragons-- What are they?
  Dragons are a species under the label of dragonkinn. They are the most well known species of dragonkinn and they are commonly mistaken for wyverns, drakes, and basilisks from time to time.

  Dragons are known to have four legs, two wings, and one head even though they are known to vary in the cases of Eastern Dragons, and multi headed dragons. Dragons are famous for their fire breathing aspects and there relationship with certain elements, (ice, earth, water, metal, ect.)
 



Now lets get into this a bit.
//A Dragon's Anatomy
  Although the anatomy of a dragon seems complicated it is very simple. They are like other animals, they have four legs, one head, one tail, and a main body. The only thing that is fancy would be the wings, and other add on's like horns, spikes, frills, feathers, and fur but that's all simple. Here the body of a western style dragon is depicted.
  Dragons are mostly seen clad in round or square-ish scales, protecting them from many weapons and other things in their environment, but they can have different types of 'skin'. Scales are familiar but fur, feathers and leathery hides are also depicted with dragons. Artists tend to combine those types of skin as well, giving the dragon they draw a hybrid look or a different look to it altogether.
//Feathers For You, a Frill For Me
   Now dragons aren't just plain backed winged serpents, they have their own features as well. Feathers, frills, claws, spikes, fur, horns, whiskers, arrowheads, and stingers can be incorporated on dragons giving them more personality and even a better advantage in their habitat that they live in.
//Western vs. Eastern
  Now just about everybody knows about the differences between a Western/Westie, and an Eastern/Eastie. Some say the differences are in temperament, and appearance, Westies are mean and spiky while Easties are kind and feathery.
  I myself believe that the main difference is in the appearance of a dragon and not the temperament. Not all Westies are mean and man eating, and not all Easties are kind and wise. Though this depends on the artist's point of view, it helps in sculpting the dragon him/herself.
//How Do They Fly?
  Wings of course, at least for the westies. Flying is a major thing for a dragon, that's what makes it a dragon, well other than its breath weapon. When drawing a western dragon, wings are the vital part of that dragon. Wings are essentially another set of arms, just adapted to fly instead of walk. The 'fingers' or phalanges are long and have a membrane stretched in between them. Dragons can have an unlimited number of phalanges, but it wouldn't be the smartest idea to give them 25 fingers on each wing, for that would make the viewer confused and even put off by the complexity of your dragon.
  Now for Eastern dragons there are two ways to fly. One is a gas bladder like ones in fish, and the other is magic. When considering the appearance and the way a eastie flies, there isn't a difference between the two. The only thing that would be a difference would be the add on's a dragon has. If an eastie uses magic to fly, it can have pounds of fur an and not be inhibited whatsoever. But if a dragon has a gas bladder to fly, then it would have to have less add on's (fur, scale, feathers, horns, ect.), so that flying wouldn't be very difficult.
//Fire, Ice, Lightning, Gas....?
  Breath weapons are incorporated in just about all dragons, whether western or eastern. Dragons can expell a variety of things, the most common being fire and ice. But other elements can be lightning, acid, various gasses, boiling water, and just about anything else.
[size=18]\\Pictures//
Here are three ways of using add on's with dragons.
1) Frills on the Yellow-Sided Water Wyvern (c)
I know this isn't a dragon, but this helps show off frills easier than a dragon would. If you would like a frilly dragon then I may work on one.
2) Feathers on the Techy Eastern Dragon (c)
3) Spikes on the Short Taloned Dragon (c)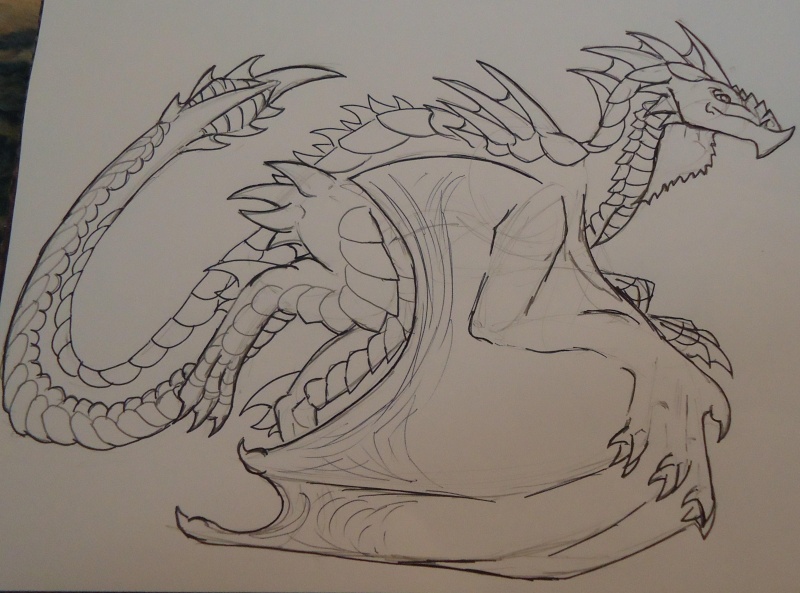 I will upload more later, probably in another post.
If you want more, I'll give you more. :cheers: